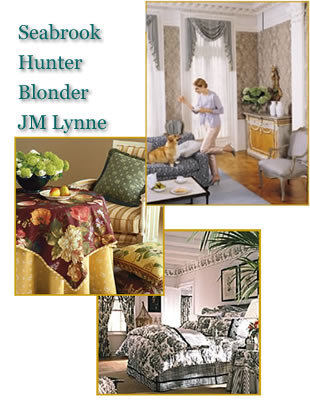 Over 900 Wallpaper Books To Choose!
Have a question? Let our experts answer them. From design to decision, Stanly Interiors is a great source for home decor ideas on decorating with wallpaper, including information and projects on using wallpaper, border paper, choosing colors, tips on hanging, photo murals, antiquing, fabric panels, starched fabric wallpaper, and more.
With so many design options in the world of home decorating today, why use wallpaper?
Besides the obvious beauty that wallpaper brings to a home, the practicality of its durability and cleanability is a definite bonus in adorning your walls. Wallpaper is the single most effective way to change a room's decor. By simply applying paper to a wall, elegant design is instantly present in your home to enrich your living quarters and your everyday experience. While wallpaper has astonishing historical relevance, it is also completely en vogue for today's home fashions. Artistic designs and contemporary color palettes will enhance your home's interior and ultimately contribute to the value of your home.
Add to your individuality by choosing a wallpaper pattern that is particularly suited to you, and watch your home transform into a one-of-a-kind backdrop that is a reflection of your life!