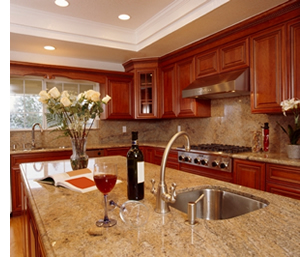 Granite countertops are unique in that no two pieces of granite are exactly the same and it adds a richness and texture to your home that is unmatched by any other product.
There are literally hundreds of granite colors to choose from. The most common uses for granite today are vanity and kitchen countertops. Granite adds an interesting design element to your kitchen and is more durable than laminate countertops. At Stanly Interiors we pride ourselves on offering the largest selection of natural stone products for your kitchen and bath in the Southeast United States.
Whether you are remodeling or involved with new construction, granite countertops will make a beautiful addition and increase the resale value of your home.