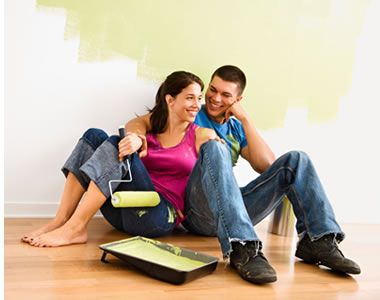 RICHARD'S paint products are manufactured with only the finest quality raw materials available and are formulated for most types of climates and offer state-of-the-art protection against mildew.
RICHARD'S paint products will meet, equal, or exceed most Federal and State paint specifications pertaining to formulation, quality, and performance, as well as most competitive paint products manufactured in the industry today, Grade For Grade.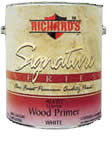 10 Signature Series
Richard's Signature Series Exterior Alkyd Wood Primer is formulated from only the highest quality resins, raw materials and pigments. Its special formulation provides the maximum penetration of bare wood surfaces, thus providing an excellent sealing quality and providing a superior base coat for the application of quality acrylic and/or alkyd finish coating. It also provides excellent holdout of bleeding of tannic acids that is commonly found in most wood substrates. Superior adhesion qualities allow for application to previously painted surfaces that are in fairly good condition, so to provide a more suitable surface for the application of finish coatings. Its high hide formulation allows superior coverage and we have added state-of-the-art fungicides to help fight against mildew growth. Contains no lead pigments. FOR EXTERIOR USE ONLY!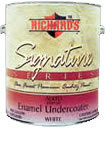 15 Signature Series

Richard's Signature Series Interior Alkyd Enamel Undercoater is a high hiding interior alkyd primer/sealer manufactured from select pigments and alkyd resins. It is formulated to provide maximum priming and sealing qualities so that finish coats are easily applied. May be applied to new and previously painted surfaces. Aids in bridging small hairline cracks and dries to a smooth, hard, eggshell finish which after drying overnight, promotes outstanding sanding properties. It also makes the ideal surface quality for the application of enamel paint products. FOR INTERIOR USE ONLY!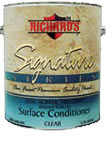 54 Signature Series
Richard's Signature Series 100% Acrylic Masonry Surface Conditioner is an acrylic masonry bonding sealer formulated for use on lightly chalked and/or dusted masonry, stucco, block and other cementicious type substrates. It is designed to tie-down the light light chalk or dust left on the substrate left after pressure washing, acid etching and/or sandblasting. Unlike most alkyd type sealers, it dries fast, which allows for same day painting instead of waiting for a 24 hour period to elapse. Provides a proper paintable surface for the application of quality acrylic house paints. It appears milky in the can, but will dry perfectly clear. ENVIRONMENTALLY SAFE! Contains No Lead Pigments! FOR EXTERIOR USE ONLY!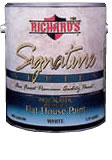 100 Signature Series
Richard's Signature Series 100% Acrylic Flat House Paint is our very best interior and exterior flat finish house paint. Manufactured from only the highest quality pigments and acrylic resins, this product not only gives you a beautiful flat finish, but is extremely scrubbable, durable, long lasting, non-yellowing, and sulfide stain resistant. Formulated for use in all climates. Its ease of application and color retention qualities will add years of protection and beauty to your home's interior or exterior surfaces. MILDEW RESISTANT!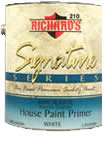 210 Signature Series
Richard's 100% Acrylic House Paint Primer is made for use on unpainted or previously painted interior and exterior wood, masonry and metal. This primer may be used on unpainted cedar and redwood. Richard's 100% Acrylic Primer is an excellent primer for galvanized steel and other properly prepared metals; it also resists rust. Richard's 100% Acrylic Primer can be recoated with acrylic, oil and alkyd enamel paints.