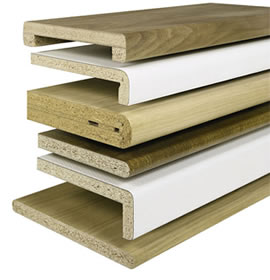 Postformed laminate countertops have been around for decades. But never have they offered such superior aesthetics and value. Not to mention durability.
At Stanly Interiors, you can choose from many different profiles and thousands of laminates. This allows us to offer customers countertops that fit their aesthetic needs as well as their budget, you can use our postformed laminate countertops to add value throughout the home, not just in the kitchens and bathrooms. Laundry rooms, kids' rooms, media rooms, home offices, and garages - they can all benefit from a stylish, well-constructed countertop.
Stanly Interiors has grown to become the leader in the postformed decorative laminate countertop. Beautiful, durable, and affordable - Stanly Interiors is your source for countertops that provide a luxurious, high-end look at a fraction of the cost.